Trusted Tree Service at
Houston

At Good Morrow Land Services, we are committed to 100% Customer Satisfaction! We believe a happy, satisfied customer is the best form of advertisement available. Good Morrow Land Services provides prompt, dependable and courteous service by trained professional crews. Good Morrow Land Services is a proud member of the Better Business Bureau and we are insured for your protection.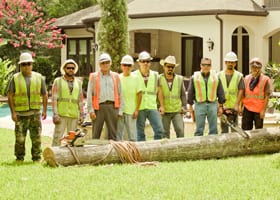 Good Morrow Land Services has earned a reputation for providing excellent service to Houston, Woodlands, Conroe, Spring, Tomball, Kingwood, Willis, Porter, Magnolia, Huntsville, New Caney, Splendora, Cleveland and surrounding areas. Good Morrow Tree Service provides service in the form of tree removal, tree trimming, Land Clearing, tree shaping, Tree topping, stump grinding, storm damage removal, underbrush clearing, and tree planting that current customers have come to rely on. Proudly serving Woodlands, Spring, Shenandoah, Champions, Cypress, Kingwood, Humble, Montgomery, and Conroe, since 2000. 

Call Good Morrow Land Services today for emergency service or an expert consultation!
"They were here within 15 minutes of calling for a quote. I had two other companies coming for quote so I did not want to do anything immediately, but they were so professional and positive. A second company came five minutes after they left, the difference was remarkable. They were complaining constantly about how hard this was going to be to do. I already knew it was going to be hard to do. After this immediate striking contrast I hired this company. They actually were out to start the job the same day. They were more than good. Each one of the crew worked like the individual instruments of an orchestra – it was something to see. At the end of the work, and TOTAL clean up, I actually formed the opinion that it was a bargain.
I give them my very highest recommendation."
Chris C.
"The oak tree, approximately 80 feet tall, had a fungus growing out of it in various places. After calling one or two other companies to get a diagnosis (neither was successful in getting anyone to look at the problem), I called Norbert at Good Morrow. We have done business with him in the past and should have called him right away. He was out to the house within a couple of hours (11:00am) and informed us that we could keep the tree, but there would be a risk of it breaking at the diseased areas. We decided to limit the risk of damage and have the tree removed. Norbert had a crew out that very same day and the tree was completely removed (stump and all) by 5:00pm. Norbert's crews are very professional in their work and they leave a very clean work site. Outside of the mulch remaining from the stump, you cannot tell there was a tree in the back yard."
Jeffery M.
"I've interviewed lots of services in the last 18 years of my life and this time was no exception. After speaking and interviewing 11 tree removal services, I went with Good Morrow Land Services. Norbert was exceptional in his work, interview (no BS), and communication. He is responsive and a great listener. His crew was fast, neat, and went above and beyond what's contracted because Norbert wanted to make sure our property was safe for the kids. You do get what you pay for and with Good Morrow, you get the paid for cake, and in my case, some icing too. :o) I'm done interviewing for this service in the future and i know that i'll need more help down the road because we have lots of trees on our property."
Kim A.
"A recent storm blew a huge oak tree on top of our garage, the tree barely touched the garage. It landed in a small area by a fence and close to our neighbor s house. I called Good Morrow Land Services to remove the tree; I knew we needed an expert. There wasn't any damage to anything and that could change if the tree wasn't properly removed. I was impressed with the tree removal service men, they were very efficient in getting the tree removed and still no damage to anything."
Debbie M.
"Seven trees were trimmed, 2 removed and stumps ground, all within a matter of hours. Excellent cleanup and courteous, friendly staff. Will definitely use this company again."
Mark E, Houston
"Great work. They removed three very large trees that were close to the house/gas tank/pool equipment and dog run. After cutting them down they mulched them up into mulch and piled it in a spot we picked out. I think that their prices were a little high, but they did an excellent job!"
Dorothy T, Conroe
"Very professional, was Quoted a fair price and I thought I got more then I paid for, also did the job in a timely manner. I have 3 more trees to be removed and will definitely have him return for the job. I would recommend this company to family and friends."
Drew J., Montgomery